AR Somatosensory interactive system video:
Youtube watch link of the video
Product introduction:
The system can play a simple sense of the game, media view, virtual photo, advertising interaction and other functions.Direct operation through the image of real person in the system.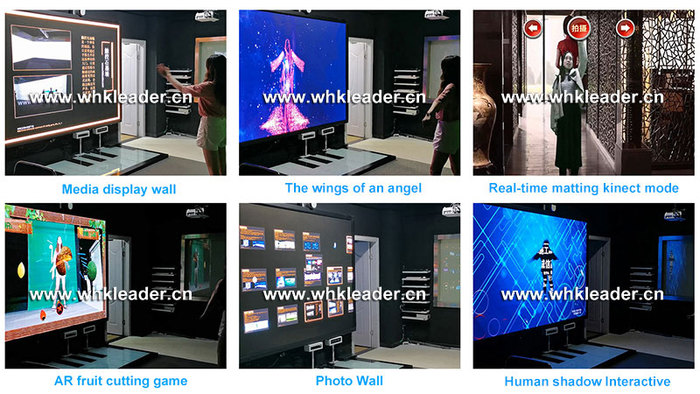 System structure: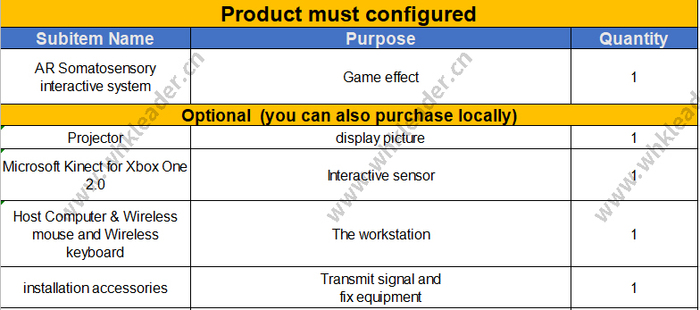 Advantage:
1. The identification range is about 4.5 meters, and users can perform remote operations in the interactive area;
2. Compatible with multiple display modes: projector, LED, splicing screen, etc.
3, can integrate other somatosensory games, especially for various exhibition areas, shopping malls, cultural tourism projects
This system contains the following six functions
1.Media display wall
3D media display - picture and video display system, you can add a directory by yourself, and you can add relevant pictures, words and videos in the corresponding directory for classified display. You can manipulate the simulated Book flipping action with gestures to flip the picture to the left or right, slide and play the video, etc.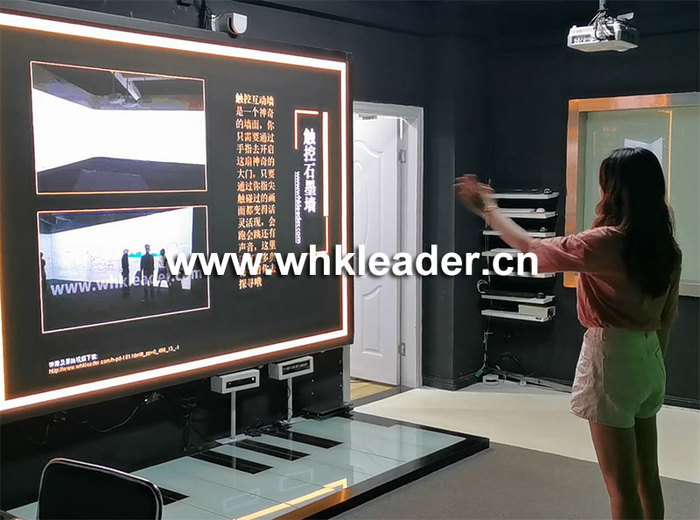 2.The wings of an angel
Particle shadow, using flowing particles to interact with the body feeling of the shadow to form a new visual experience. Support self changing background or background video and background music. With the video recording function, it can generate H5 publicity pages to share with the circle of friends and record wonderful moments. It is easier to stimulate people's desire for experience and forwarding. With its own drainage skills, it can be used as a medium for enterprise promotion and publicity.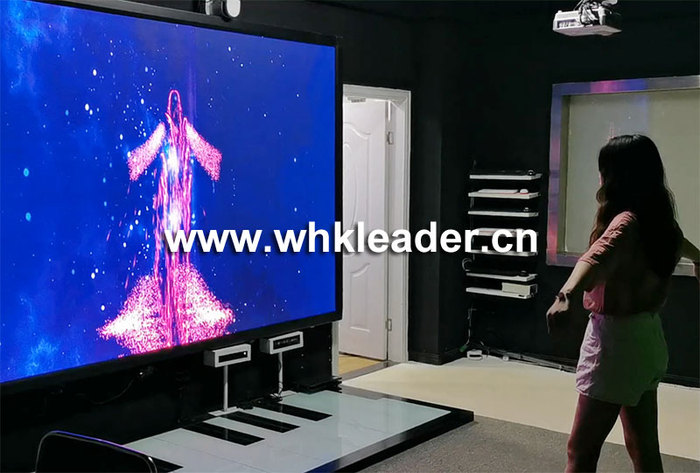 3.Real-time matting kinect mode
This matting and photographing function supports matting without background and green background. You can customize and modify the matting background. The experimenter can wave to change the scene, raise his hand to complete photographing, and generate QR code to share photos or videos!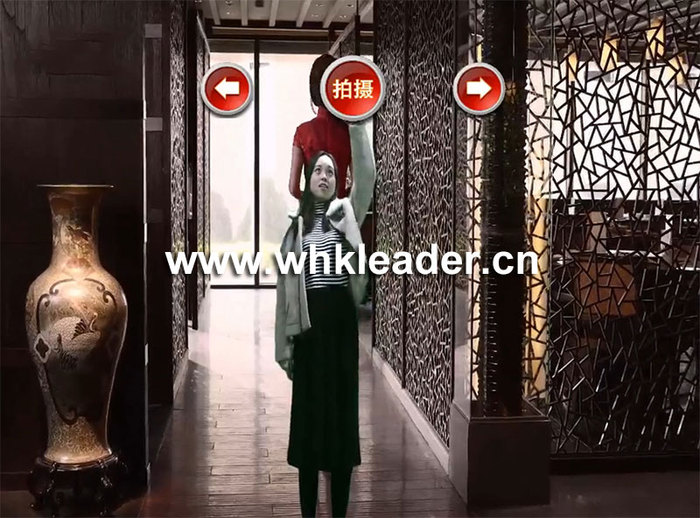 4.AR fruit cutting game
The experimenter's hands become a ninja knife. If the experimenter moves his hands and touches the fruit, he can successfully cut the fruit and score. Be careful of the bomb when cutting the fruit.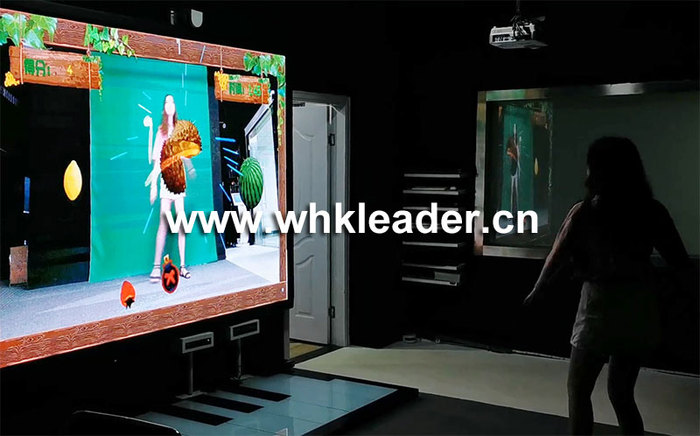 5.Photo Wall

The photo display wall is a mobile picture display wall. The experimenter can manipulate the picture in the form of clenching his fist and slide to view the overall picture thumbnail. If there is a picture that needs to be viewed in detail, just put his hand on the picture to enlarge the display. Other photos generated by the photo taking function module will be automatically displayed on the photo wall.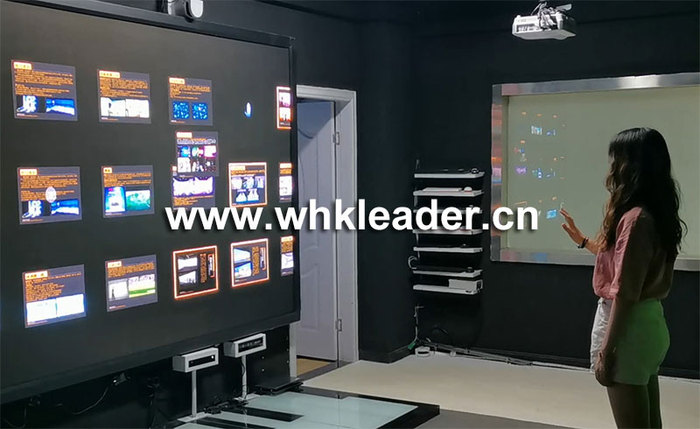 6.Human shadow Interactive

Shadow follow me - when the experimenter stands in front of the large screen, the somatosensory camera will present the captured human image in the form of real-time silhouette on the large screen, showing the brand culture of the event organizer or the conference information. The silhouette is accompanied by logo pinball. You can customize and change the background video, foreground advertising text, logo pinball and other materials in the scene according to the needs of advertisers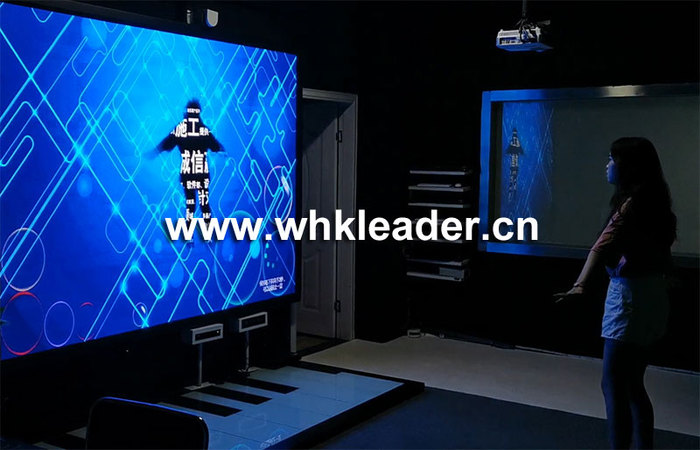 Installation & after-sales service
1.1 year warranty for hardware&components
2.Provide the specification of machine, to teach customer how to operate the machine;
Send photos and video to customers for reference;
3.Door-to-door service need extra charge!
4.Provide customized services
How does it work?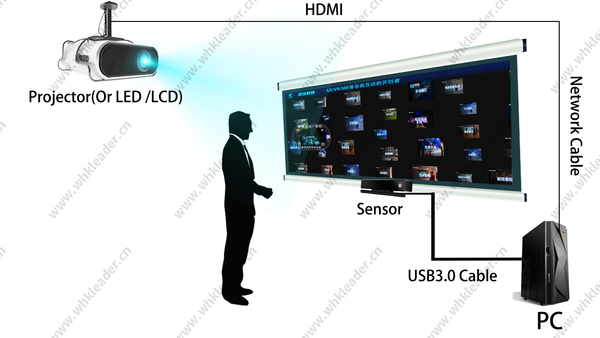 Product attribute

keywords: AR somatosensory interactive system big screen smart display games silhouette particles media display wall kinect games digital art holographic,interactive projection ar somatosensory system gesture control 3D kinect games for children dynamic digital art virtual holographic immersive,AR Somatosensory interactive system, 3D Kinect games, Silhouette particles Media display wall, gesture control, virtual somatosensory control, interactive projection system