Youtube watch link of the video
Youtube watch link of the video

Virtual Welcome System-Intelligent Induction Video Play, is to automatically play the video after the visitor is sensed by infrared detectors, to automatically show the welcoming characters or video materials for the coming visitors, and to introduce related products and various project services to everyone. Overview.
1. A mutual induction device
2. (Wired) One Greenlink USB extension cable (20M or 30M)
3. 1 set of pure green virtual commentary software (including speech synthesis gadgets, convenient for making videos)

1. One PC computer, support winxp, win7, win8, 32-bit and 64-bit
2. A projector or LCD TV
3. If it is a projection scheme, glass and holographic film can be selected
4. Induction of the production of the explanation video, the size is the same as the screen resolution, WMV format, if it is another format or size, it comes with a wmv conversion tool to convert

1. The system is stable, there will be no crashes, unresponsiveness and other problems after installation, and it will run automatically after booting.
2. Good compatibility, all windows systems must be compatible
3. The sensing distance can be controlled, so that guests can sense only about 1 square meter away from the screen, instead of sensing before they come.
4. Easy to install, USB interface, don't even need a dongle, the software operation is also simple, there is a test version and video tutorials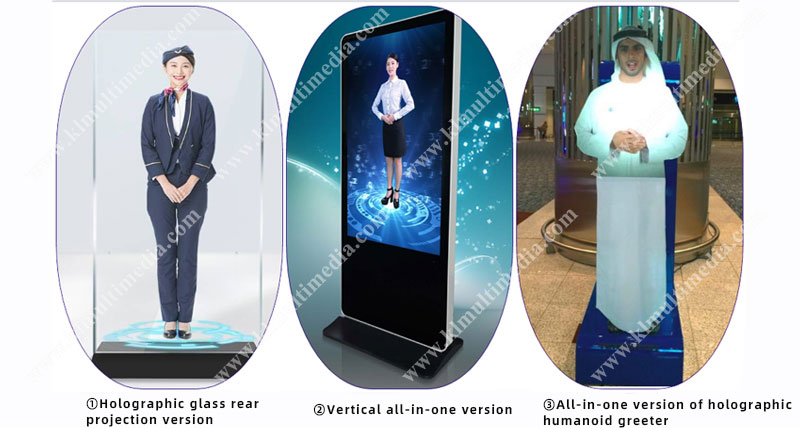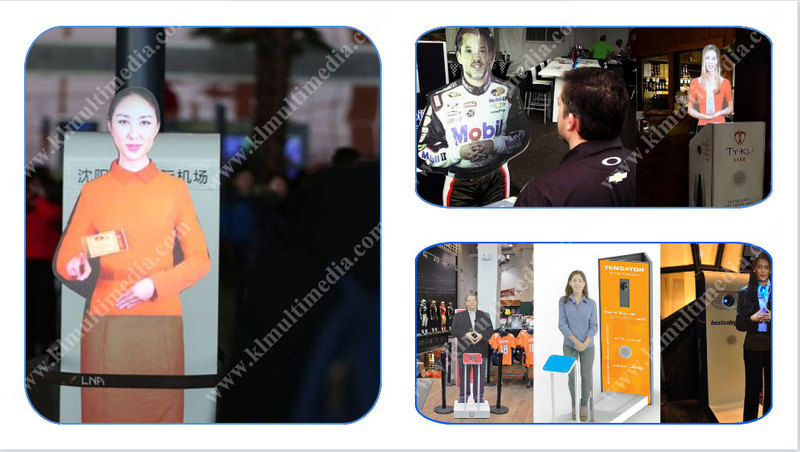 System structure:
Virtual greeters-Holographic Projection Version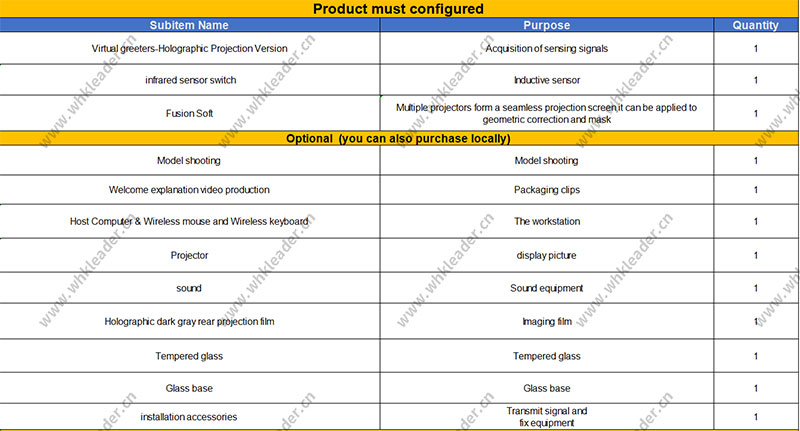 Virtual greeters-All-in-One Version

Installation & after-sales service
1.1 year warranty for hardware&components
2.Provide the specification of machine, to teach customer how to operate the machine;Send photos and video to customers for reference;
3.Door-to-door service need extra charge!
4.Provide customized services
Product attribute

keywords:Virtual interpretation welcome system interpreter speaker 3D holographic projection tempered glass for store interactive projection,3D Holographic projection welcome virtual interpretation presenter display interactive digital wall holographic prototype magic AR video,Holographic projection welcome, Virtual interpretation, Virtual Production Welcome, Virtual welcome, interactive projection wall, ar interactive assistant