Youtube watch link of the video
Youtube watch link of the video
Youtube watch link of the video
Youtube watch link of the video
Product introduction:
Kleader central control system, independent research and development, the interface can be customized, supports two versions of windows and IPAD, and can be connected with any program of the company. Using IPAD, you can control the projection, computer, lighting, curtains, equipment on and off, volume, game switching, video playback pause, etc.
The intelligent central control system of the pavilion consists of three parts: a handheld control terminal, hardware control equipment, and customer service software. It uses a combination of distributed control and centralized control, and is networked in the form of chrysanthemums through TCP/IP mode. The hardware control part is composed of The handheld control terminal sends instructions to the hardware control host, and the hardware control host selects the R232 bus/wireless signal to control the device according to different devices. In the linkage demonstration part, the handheld control terminal sends instructions directly to each client via WIFI or external network in TCP mode, and the client host completes the corresponding actions after receiving the instruction, such as playing a movie or performing other operations. In this way, the instructions that are not forwarded by the host greatly reduce the failure rate of the linkage control with the client.


System structure: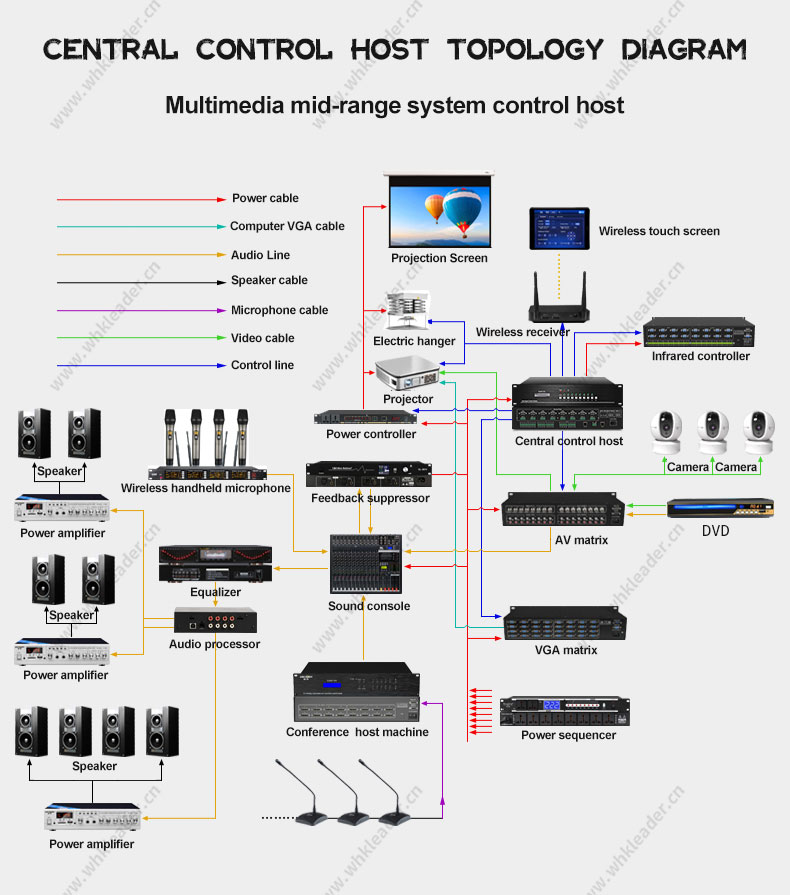 Advantage:
Features of handheld control terminal of intelligent central control system

1. Multi-platform system application
The control terminal software is divided into Ios and Windows systems, and is compatible with desktop computers, mobile phones and tablet computers.
2. User interface and button functions can be customized
3. Features powerful
Expansion features of hardware control equipment
Client software features of intelligent central control system
1. Powerful data format support capability
2. Configurable interface design capabilities
3. Flexible resource event processing capabilities
4. Hardware control ability
5. Convenient multimedia playback and control functions
6. Multi-task collaborative processing capabilities
Installation & after-sales service
1.1 year warranty for hardware&components
2.Provide the specification of machine, to teach customer how to operate the machine;
Send photos and video to customers for reference;
3.Door-to-door service need extra charge!
Product attribute

keywords:Central control system android ios ipad windows hardware wireless multimedia exhibition hall centralized construction integration radar,windows centralized central control management system customizable and on-site integrated debugging interactive exhibition hall,Multimedia central control, Android Central Control system, IOS Central Control system, Central Wireless Control System, windows central control system, The theme exhibition hall hardware central control system