Kleader football interactive games include: somatosensory header, physical penalty shootout, physical penalty kick, somatosensory football teaching, ground interactive projection football, and VR goalkeeper.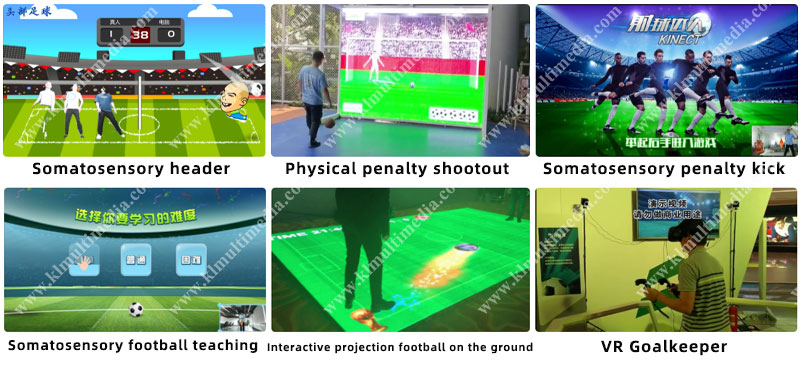 Youtube watch link of the video


Youtube watch link of the video
The penalty shootout game uses a combination of virtual and real interactions. The game interaction between the real ball and the goalkeeper on the screen, restores the football line from multiple angles, the game is highly authentic and entertaining! It's no longer just an interaction like kicking the air without a physical object. Real football shooting makes people more interested in participating.


Youtube watch link of the video‍
‍
The player can adjust the angle of the shot by moving left and right, and then select the appropriate force according to the fluctuation of the force bar on the right to swing the right foot to kick the ball. Exercise the player's physical coordination!


Youtube watch link of the video‍
‍
Through the system, players can learn football skills such as tiptoe kick, goal goal, arch pass, inner foot shot, header, frontal shot on the back of the foot. Systematic teaching fully reflects entertaining , and stimulates experiencers' love and enthusiasm for football.




Youtube watch link of the video‍‍





1.1 year warranty for hardware&components
2.Provide the specification of machine, to teach customer how to operate the machine;Send photos and video to customers for reference;
3.Door-to-door service need extra charge!
4.Provide customized services

keywords:interactive games soccergoal trainer Kinect sports dribbleup soccer game floor projection AR Interactive Soccer Simulator Somatosensory soccer,interactive projection virtual penalty kick virtual soccer software simulator kinect sports american football tips sports indoor floor projection,interactive games, soccer games, virtual penalty kick, interactive soccer goal, kinect soccer games, interactive soccer trainer,virtual football games,football projector interactive,football projector software,realtime interactive football wall,football projector projector,football on projector,football projector game