Product introduction:
Immersive video uses audio, video, and special effects systems to enable viewers to obtain audiovisual information in multiple directions at the same time, and experience a high degree of immersion that cannot be achieved with a single plane video before.
Common immersive videos include the following scenes, L screen, three-fold screen, four-fold screen, five-fold screen, arc screen, etc.
Keling customized immersive film source, low price, good service, convenient communication, and there are finished products in the roaming series!
Common immersive videos are mainly used in the four categories of 3D scene experience, special effects production and promotion, 3D planning and display, and immersive roaming. The starting time for all videos is 90 seconds.
Immersive-3D scene experience
Youtube watch link of the video‍
Naked eye 3D cave case
Youtube watch link of the video‍‍
This video is produced by Keling. In addition to the traditional immersive effects, it also adds lighting, wind and rain effects.
Projection, interaction, real sense of wind and lightning real 5D immersive projection, through 3D immersive special effects + interactive induction + lighting props to interpret the student's day's life. From the sun rises, walks onto the streets, the streets are constantly flowing, the weather changes, the evening comes home, and the night falls. It's like feeling all these changes immersively.

Factors affecting the price of immersive video-3D scene experience version:

1. Whether the film source exceeds 6K

2. Is the scene transition tight?

3. The richness of animation, special effects, etc.

Immersive Video-Technology Special Effects Packaging Promotional Edition
Youtube watch link of the video‍‍‍
This video is produced with pure three-dimensional special effects. Customers provide pictures, explain text, and video. We are responsible for creative lens animation, multi-camera rendering, post-alien correction, color correction, editing and soundtrack.
Immersive Video-3D Planning Demo
Youtube watch link of the video‍‍‍‍
This immersive style can be mixed with shooting or three-dimensional simulation pure scenes. The default fee includes materials, lighting, textures, creative shots, multi-camera rendering, post-exposure correction, color correction, editing and soundtrack.
Additional fees include the following:

1. Large scene model, also available to customers

2. If you need real shooting, you need to rent a drone or a mobile shooting car

3. The more local details of a large scene are displayed, the more expensive the price

Immersive roaming
Youtube watch link of the video‍‍‍‍‍
Point-to-point immersive viewing angle roaming, the wall and the ground form a whole, the naked eye 3D visual impact is stronger, and the real perspective is restored. Kelly has launched 5 kinds of roaming materials of common themes, and you can choose 3 types to customize the size and resolution of your venue. After customization, point-to-point pixels are restored, and there is no deformation within 8K. Maximum support 8K, larger resolution will zoom.
It supports cave point-to-point with three walls and one ground, L-shaped, and does not support four walls and one ground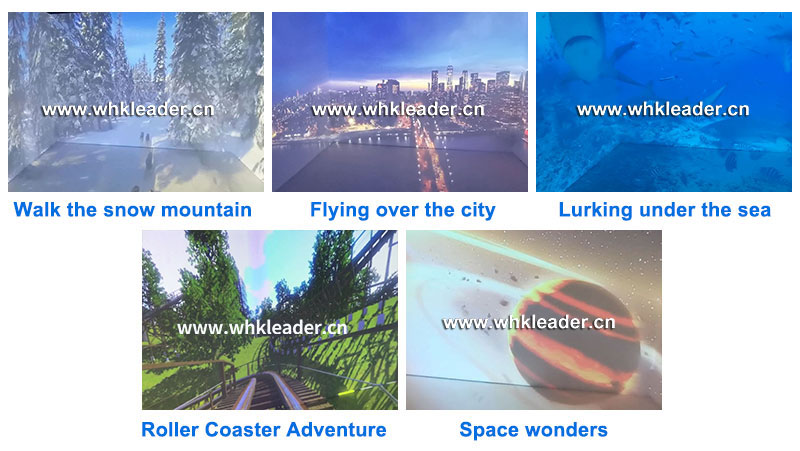 System structure: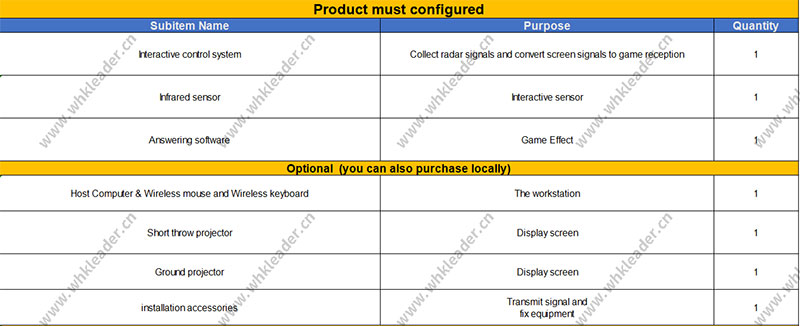 How does it work?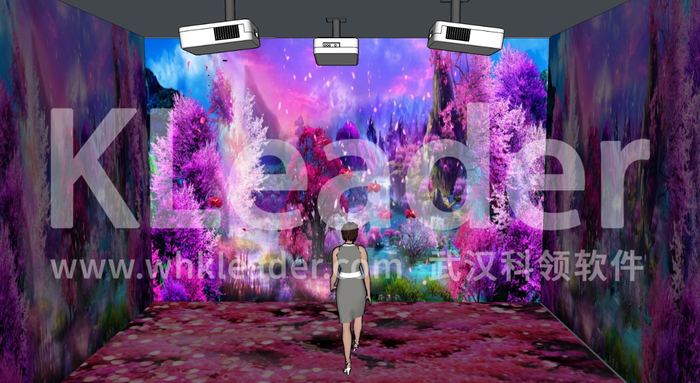 Installation & after-sales service
1.1 year warranty for hardware&components
2.Provide the specification of machine, to teach customer how to operate the machine;
Send photos and video to customers for reference;
3.Door-to-door service need extra charge!
Product attribute

keywords:interactive projectors 3D virtual cave holographic immersive roaming customization effect dynamic digital art augment reality ,interactive projectors 3D virtual cave LED display indoor holographic immersive augment reality virtual roaming customization effect,3D virtual cave, holographic 3D projectors, interactive projectors, virtual interactive , Virtual roaming customization effect, immersive 3D projectors