Youtube watch link of the video
kleader interactive answering, covering the following topics to choose from: fire safety knowledge answering, traffic safety knowledge answering, anti-drug knowledge answering system, legal knowledge answering, disaster prevention and mitigation safety knowledge answering, production safety knowledge answering equipment, garbage classification knowledge answering, food and medicine Topics such as safety knowledge response, road and bridge construction knowledge response system, and new coronavirus epidemic prevention knowledge response system. If the above themes can't meet your needs, you can also make a good background, background music, and question bank to us, we will help you replace it, and also support customized answering interaction.
kleader interactive rush answer, support 1-8 people to answer at the same time, calculate the price according to the number of interactions, and optional answer desk or touch screen for rush answer.
System functions:
1. Click the big button or the ready button on the touch screen to prepare to answer
2.The system randomly selects 10 questions from the question bank for quick answers, and scores for correct answers. If you answer incorrectly, you can also deduct points for corresponding analysis.
3.If the camera is connected, the winner can take a photo to linger and generate an electronic version of the photo. If there is an Internet, you can scan the code and take it away
4 .If a printer is configured, you can print the certificate.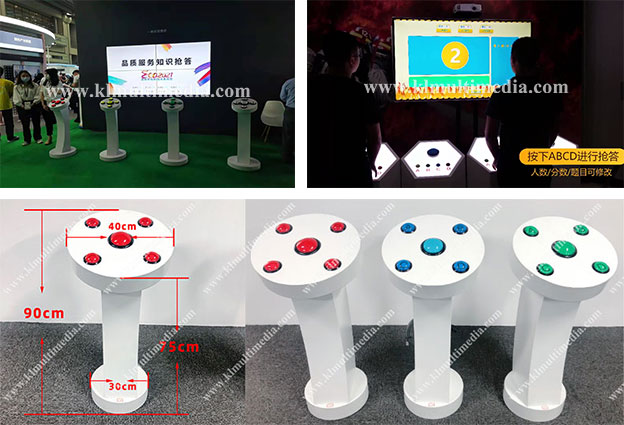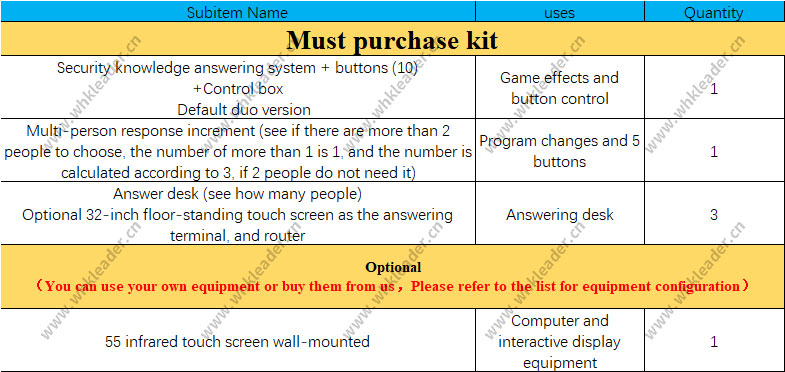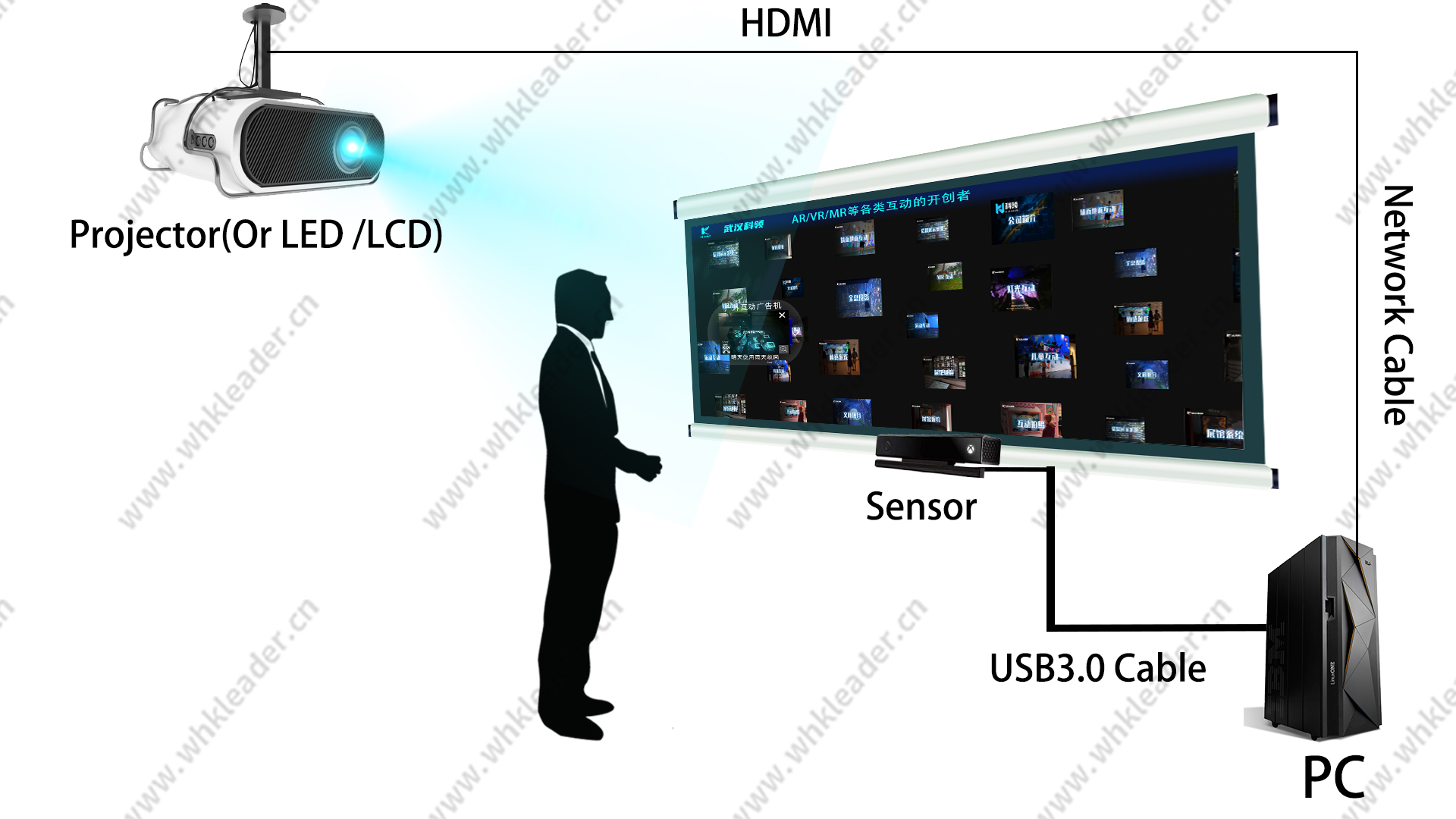 ‍Youtube watch link of the video‍
Multiple players can compete for ranking at the same time. Participants have to interact with each other, react quickly and make judgments, and choose the correct classification. The participants who make the judgment first score. There is also a scoring ranking system. Support software customization modification.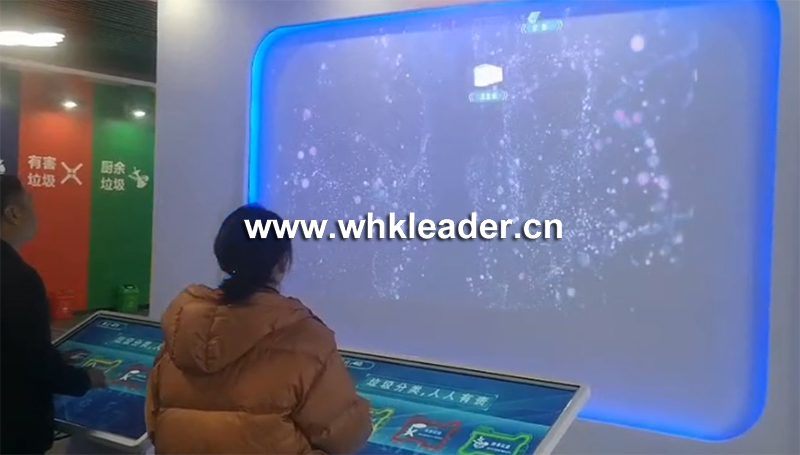 ‍Youtube watch link of the video‍
The kleader interactive answering system can support two display modes: dual-screen and single-screen. It supports four sensing methods: projector, LED screen, touch screen, and physical object, and the resolution can be customized. The question bank can add the content of the questions you need, and the interface also supports custom replacement. You can also add analysis! Red cross type / party building type / ancient literature and other topics can be modified by yourself!


AR somatosensory interactive answer
Support customization, somatosensory answer due to the popular science game mode, the venue is not demanding, and the question bank can be adjusted and the QR code can be replaced according to user needs, which can adapt to various occasions.
It can be used in the fields of fire safety, traffic safety, national defense knowledge, anti-drug knowledge, law popularization, earthquake prevention and disaster reduction, environmental protection, fraud prevention, robbery prevention and other fields.
Youtube watch link of the video

Somatosensory answer-posture selection
In addition to customizing the interface, questions, and themes, there are also 8 templates and question banks. Answering questions alone, not rushing to answer. (Fire knowledge somatosensory answering system, traffic safety knowledge somatosensory answering system, anti-drug knowledge somatosensory answering system, law popularizing knowledge somatosensory answering system, earthquake prevention and disaster reduction safety knowledge somatosensory answering system, fraud prevention somatosensory answering system, stealing prevention knowledge somatosensory answering system, somatosensory garbage Answer the questions by classification knowledge.) The system operator has a display in the lower left corner to avoid the embarrassment of not knowing who is operating.
Youtube watch link of the video





1.1 year warranty for hardware&components
2.Provide the specification of machine, to teach customer how to operate the machine;
Send photos and video to customers for reference;
3.Door-to-door service need extra charge!
keywords:interactive grab answer projection 3D rush to answer software quiz game for kids augment reality dynamic digital art augment reality,Answer and question software interactive grab answer rush to answer software quiz game for children holographic 3D projection,Interactive grab answer, Rush to answer software, Answer and question software, interactive projection, Quiz game, games for kids